WHO research labs, as identified in-game, are considered to be the Shadow Plague equivalent of Gen-Sys labs. The labs have a flask on the roof but if attacked, the flask will have a red X over it after a few seconds being attacked by sending vampires to the lab or by filling the country with Shadow Slaves. A slash in cure research will increase the time to cure the plague. A popup will appear with a destroyed lab. They are relatively easy to destroy, similar to those in theSimian Flu. However, unlike the Simian Flu, if the player evolves Shadow Slaves, they will actively destroy any WHO lab in their country. The cure counter will skyrocket by 2 every few seconds. This poses a hazard as the plague will be eradicated if the labs are left untouched.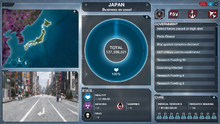 .
Community content is available under
CC-BY-SA
unless otherwise noted.