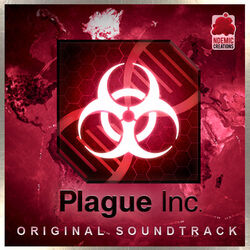 Plague Inc. Original Soundtrack is a compilation of music tracks created and scored by Ndemic Creations. It is released on September 10, 2014. The digital album costs $4.99.
The tracks are composed by Joshua Kaplan and Marius Malasar.
Summary
The original Plague Inc: Evolved soundtrack, featuring all of the tracks from Plague Inc: Evolved as well as the music from the original Plague Inc. game - including the haunting main theme, the paranoid notes of Neurax worm mind control and the aggressive style of the zombie-producing Necroa virus (plus a surprise bonus track!).
We will be adding more music to the game in future - this will be added to the soundtrack and available for no extra cost if you've already purchased it.
Includes 10-track album and bonus track in MP3 format.[1]
Track List
Availability
Gallery
References