Plush Toys
The Plague Inc. plush toys are first launched on December 11, 2015[1] and became available at the Giant Microbes online store. All of the plush toys' designs are based on the plague diseases.
List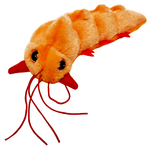 The Neurax Worm is a manipulative, mind controlling organism that burrows into the brain. Living in the jungle, undiscovered for thousands of years, humans have now entered its natural habitat and given it the means to spread...
The Bio-Weapon is an angry pathogen that has no time for messing around - do not touch it! Released on the world accidentally, it becomes more lethal over time and is incredibly hard to control. Can it still spread when it kills everyone it touches?
The Nano-Virus is an artificial construct that is out of control and fast-moving. Having escaped from a lab whilst being used for medical research, this microscopic machine has the potential to wreak havoc. Humans are broadcasting a kill code to shut it down but it might already be too late...
T-Shirts

The Plague Inc. T-shirts are launched on May 22, 2015[2] and became available at Amazon for men, women, and youth.
List
Trivia
The "DAMN YOU GREENLAND!" T-shirt is in reference to the fact that Greenland is considered as one of the most difficult countries to infect.
The "IT'S ALL IN YOUR HEAD" T-shirt shares the same name as the Neurax Worm's theme.
Gallery
References
Community content is available under
CC-BY-SA
unless otherwise noted.