Artificial Organs is a scenario added in the Mutation 8 update for mobile platforms. Due to the nature of the scenario, it cannot be played on special plagues.
What happens?
Edit
At the beginning of the game, a popup will show saying "Artificial Organs adored by the world." Now, when a disease is spotted and is lethal, a popup will appear saying "Artificial Organs to save lives." The lethality of the plague will be reduced significantly, and they will continue to do so for the rest of the game unless players counter it. The lethality reduction is enough to counter even the Bio-Weapon's Unlock Annihilate gene and the evolution of normally end-game symptoms like Total Organ Failure and Hemorrhagic Shock. Harder difficulties seem to decrease the lethality more each time a new batch of organs is received. 
How to counter Artificial Organs
Edit
To stop the Artificial Organs from decreasing a plague's lethality, players must evolve both the
Insanity
and
Hypersensitivity
symptoms after the "save lives" popup. After players do this, a popup will show up, saying "Victims of <plague name> rip out organs". This means players have successfully countered the artificial organs, and their plagues' lethality won't be reduced anymore after that. In fact, plagues'
lethality
will actually gradually increase after evolving Insanity even if no more symptoms appear.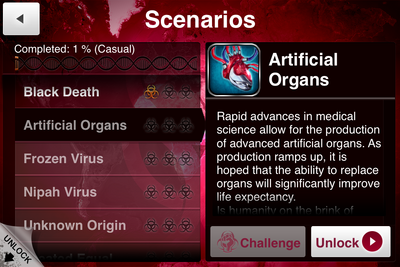 Community content is available under
CC-BY-SA
unless otherwise noted.